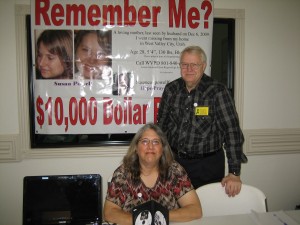 Judy and myself (Chuck Cox) spoke at the 1st Annual Crime Victims Conference of East Texas.  It was an honor to speak to such a large gathering of Law Enforcement professionals, DSHS and CPS professionals.
This conference was part of the ongoing training for those who deal daily with very difficult stressful situations, decisions and people undergoing tragedy.   Different offices and personnel had the opportunity to interact and understand how they can all work together to help victims.
We commend the Henderson County, District Attorney's Office for putting the conference on.   We enjoyed being invited, and sharing our story and thoughts.  This was our first time telling our story in front of an audience, without just answering specific questions from reporters.  Thank You
While at the conference we met other non-profit citizen volunteer groups.  One of which we feel we need to tell you about was Victim Relief Ministries, a non-denominational organization that provides support to victims and victim families.  It consists of a core of volunteer pastors and others trained in counseling victims.  They provide one on one help and counseling to victims and their families, in the wake of any type of tragedy large or small.    While no one can fully understand the grief, pain each person feels when a tragedy occurs, one on one faith-based support from a trustworthy source is a very important service.  There is no cost for their service and they have many resources to offer.   We fully support their work and have put a link to their web page under our Partners, Information & links tab.  Or you can follow the link below.
http://www.victimrelief.org/pages/page.asp?page_id=53098