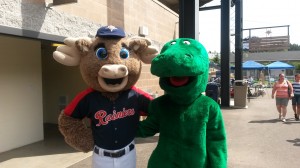 CB made a new friend, "Rhubarb" the Reindeer the mascot of the Tacoma Rainier's, they pose here at Cheney Stadium in Tacoma, where CB was meeting Children and adults attending this Years Tears Foundation Rock & Walk .  (June 21, 2014)  Parents and Families meet each year to in remembrance of their lost children to raise funds for The TEARS Foundation.  The TEARs Foundation provides financial help and support groups for parents who lose infants.
The Tears Foundation expanded the scope of their support by introducing the Charlie and Braden Project which includes the families loosing children up to age 12.
(link to the TEARS Foundation Web site http://www.thetearsfoundation.org/)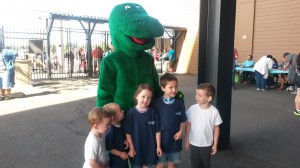 Here CB poses with some family members that took part in the walk on behalf of their siblings.