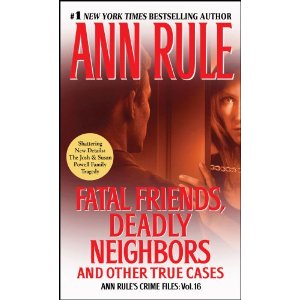 Ann Rule's book, "Fatal Friends, Deadly Neighbors"  which includes the tragic story of Susan Cox Powell and her sons, Braden and Charlie, will be on  store shelves on November 27, 2012. With the help of Chuck and Judy Cox, this will be the most complete coverage of the case so far, a case that will never be over until  Susan is found. Ann says that this is one of the most difficult stories she has  ever had to tell, but she never wants anyone to forget Susan, Braden and  Charlie.
The Coxes will join Ann in signing books at two Fred Meyer stores. On  Friday, December 7, we will be signing at the Burien Fred Meyer store from 3 to  5 (or longer if need be.) On Saturday, December 8, we will start signing book copies from 2 until 4–or later at the Fred Meyer store at 17404 Meridian East Puyallup, WA  98373.  More signings will be scheduled and will be  noted here and on www.authorannrule.com . There are eight other cases, (all but one from the Northwest), in this original "Pocket Books" paperback edition. Copies of Fatal Friends, Deadly  Neighbors  are also available in hardcover from book clubs.
We appreciate Ann Rule for telling this story, we hope that those who read this book will evaluate their own situations and resolve to do everything in their power to stop domestic violence, including taking any necessary steps for their own safety before they end up part of yet another domestic violence tragedy.