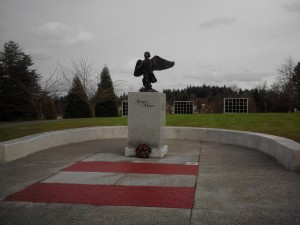 It is that time of year again, This Sunday night, December 6, at 7pm the annual candle light vigil will be held at the Woodbine Cemetery,2323 9th St SW, Puyallup, WA 98373.  The vigil is to honor and remember children who have passed and to provide comfort to those left behind.  Anyone that would like to attend is welcome.  The vigil is an opportunity for everyone to gather and remember  loved ones who have passed.   Those attending are asked to bring a white flower to place at the statue in honor of their loved one.
The Christmas Box Angel Statue was introduced to the world in the book The Christmas Box, a worldwide bestseller and hit television movie by author Richard Paul Evans. In the book, a woman mourns the loss of her child at the base of an Angel Monument. Though the story is mostly fiction, the angel monument once existed but is speculated to have been destroyed. The new angel statue was commissioned by Richard Paul Evans, in response to reports that grieving parents were seeking out the angel as a place to grieve and heal. The monument was dedicated on December 6, 1994-corresponding with the date of the child's death in The Christmas Box. (Coincidentally, Dec. 6th is celebrated in many parts of the world as Children's Day).
The Woodbine Cemetery Angel Statue, 2323 9th St SW, Puyallup, WA 98373, was dedicated December 6, 2012. There are over 200 statues across the Nation and around the world, locations are listed on Richard Paul Evan's web site. http://efs.richardpaulevans.com/index.php/angel-statues/
On December 6th of each year (7 p.m. MST) a candlelight healing ceremony is held at the base of the Christmas Box Angel monument. After a few remarks, a moment of silence, and the lullaby of a children's choir, the attendees are invited to leave a white flower at the base of the angel statue. The Firgrove Ward Primary will again provide the children's choir at the Woodbine Cemetery.   The bricks in front of the Statue Base have now been engraved with the names of Children who have passed.
Thank you to all those that support the vigil.  
Sponsors: Pierce ?County Sheriff's Department, Pierce County  Crime Stoppers, Charlie's Dinosaur, Woodbine Cemetery, The City of Puyallup, Epic Donunts, Dave and Terri Rich, The Puyallup Tribe, The Tears Foundation, The Firgrove Children's Choir, Champion Center Champions Foundation.