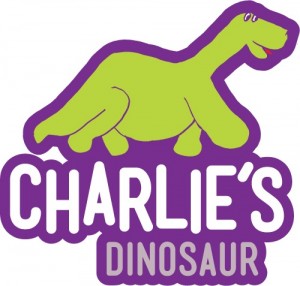 Come Join us Saturday, November 23rd from 10am to 3pm on the corner of 176th & Meridian.
Charlie's Dinosaur sponsored by Pierce County Crime Stoppers will be holding a coat and backpack drive to benefit foster children.   This event will be hosted by Columbia Bank located at 176th and Meridian in Puyallup by Fred Meyer.
This is a special event Introducing "CB" our new Charlie's Dinosaur Mascot.  Come and meet "CB" in person.   "CB" will be available for pictures with boys, girls and even adults.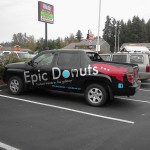 For as long as supplies hold out, Epic Donuts home of the "Tastiest Treats in the Galaxy",
will be on site providing "CB" donuts, a Cherry filled glazed donut in the shape of the Charlie's Dinosaur Mascot "CB".

The "CB" donut is available daily at Epic Donuts  "Tastiest Treats in the Galaxy" 12314 Meridian Ave E, Puyallup, WA 98373 (253) 845-0246.
The everyday low price for the "CB" is $1.50,  Epic Donuts donates 1.00 for each donut sold to Charlie's Dinosaur.   I can speak from personal experience they are delicious, (Quality Control is essential)
"Epic Eddie" will also be available for pictures and to keep "CB" company, we welcome other mascots to come join in this event to benefit Foster Children.
SHOPPING LIST:
Kids Clothing, ages 3 to 16 (Boys and Girls)
Under garments to include socks (Boys and Girls)
Pajama's (Long Pants and Tops) practical, not fancy.
Sweat Suits (Boys and Girls)
Heavy and Light coats (Girls and Boys)
Hats/Caps/Gloves (Girls and Boys)
School Back Packs (Girls and Boys)
Airline carryon Bags with wheels (small)
Hair brush and comb
Tooth Brush and Tooth Paste
Deodorant (Boys and Girls)
Shampoo and Conditioner
Compact Mirror
Make Up Kit (Girls)
Curling iron, Flat iron and Blow dryers
Small radio alarm clocks
Pens and Pencils
Address Book
Journal
School Supplies (all types)
Colored Pencils, Crayons, Coloring Books
Drawing Pads
Craft kits, puzzles, travel games
Children's Books, Young Adult and Teen Books
"CB" will be available to support other worthwhile events, please use the contact us Page on this site to make your requests.   Other Crime Stopper units are welcome to expand the scope of Charlie's Dinosaur to your local area.  Please use the contact us page on the Susan Cox Powell Foundation web site to get further information.