The Charlie's Dinosaur Coat Drive held on November 23, 2013 went well.  We started slow on a very clear and cold morning, by 10:00am our start time, we were ready to go, but the temperature was around 30 degrees,  Luckily the wind was mostly calm, but the slightest breeze went right through the light jackets most of us were wearing.   But even with the chill in the air, everyone one was optimistic.   Even a little before the official start time a car pulled up and gave us 3 bags of donated items, including at least 3 coats.   People continued to trickle in for the first hour or so then around noon, things began to get busy.  We had about 30 volunteers and all of them were pressed into service as people dropped by coats, clothes, school supplies and other donations.  It was very gratifying to see their generosity. "CB" made his first appearance at about 10:15am, and was a big hit.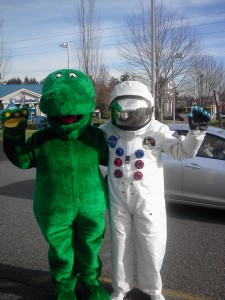 Then Epic Eddie the astronaut showed up, and both of them helped with drawing attention to our fund-raiser.
We gave "CB" a few breaks from his outside waving, taking him on a walking tour of the Fred Myer store, which was pretty packed with holiday shoppers getting ready for Thanksgiving.
The children in the store and their parents welcomed the distraction of a Dinosaur walking through the isles.   "CB" got plenty of hugs, high fives, and a turned a lot of heads.   One little girl said, "look Mommy a dinosaur".  Mommy, concentrating on the bazillion things mommys have to do, hadn't seen "CB" and told her daughter, "Honey, dinosaurs aren't real….   "CB" heard her and quickly altered his path slightly so the mother would see him.   A few seconds later "CB" had a new friend, and mommy now believes in dinosaurs.   The reactions to "CB" varied but where all positive, except for one little boy who wasn't sure about how safe a big green dinosaur was …..he came around.    The "CB" costume turned out to be just as loveable as we had hoped it would be.  All in all it was fun for the children, fun for "CB" and everyone.   We made 3 trips total through the store.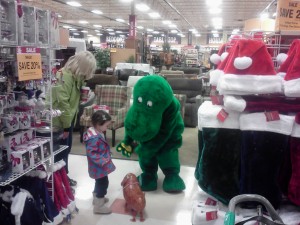 Charlie's Dinosaur and "CB" want to thank Crime Stoppers, Columbia Bank, and Epic Donuts, and all of the volunteers that helped, with this event.  Epic Donuts distributed 250 boxes of "CB" donuts, (glazed "CB" shaped donuts with cherry filling),   Tasty, tasty teats indeed.   Also distributed along with the donuts and "high fives" were Charlie Dinosaur tattoos, pretty snazzy.
Over 2,000.00 in cash was raised for foster children along with many, many coats.   One local business man came by with about 10 coats he had just purchased, it was very gratifying.  Thank you to all those generous people.
"CB" will be made available upon request to support various civic functions, and charity events, especially those involving or benefiting children, please leave a message on this site using "contact us", and we will see if we can work out an appearance.