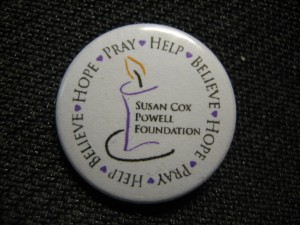 Foundation Subscribers, and Supporters: Thank you for your interest and support.  
We just had this 1 inch lapel pin made.  It is small enough it can be worn on a lapel, collar, purse strap, hat or other location, without turning yourself into a billboard.  We hope you will be willing to use it to talk to people about our website, foundation, stopping domestic violence, and helping the families of victims of violent crime.
We would be glad to send you one or more at no cost to you. (donations accepted) We will need your mailing address. (your mailing address will not be sold or shared)   Feel free to give yours away, we can send you more.