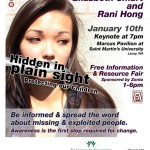 We were pleased to attend  and add our support to the fight against human trafficking, abduction, and exploitation.
We join with and applaud those responsible for this event, the Rotary Clubs of Thruston County, Lacey, Yelm, Olympia, West Olympia, South Puget Sound, The Tronie Foundation,  Zonta Club of Olympia, Zonta District 8, The Community Foundation of Puget Sound, The Timberline High School, Centennial Elementary School and the Sponsors that made the event possible.   My best estimate was that over 300 people attended this first event which is planned to become an annual effort.
We arrived at 5:30 just as the workshop, 1pm – 6pm, was winding down, in time to meet with Elizabeth and Rani and meet some of those responsible for the event.   Local Television KING5 showed up and interviewed Elizabeth and Rani and then everyone moved to the main auditorium for the program.
Through a multi media presentation the audience was provided facts about the problem of human trafficking around the world including the US.   (Yes, it happens here)
Rani Hong shared her experience as a survivor of human trafficking and encouraged those in attendance to help fight this ongoing 32 billion dollar criminal activity.
Elizabeth Smart shared her abduction story, which miraculously ended with her return to her family, and encouraged parents to never give up on their missing loved ones.  Elizabeth shared her inner strength and determination that helped her survive her ordeal, and reminded the audience it was a tip from the public that brought her home.  She encouraged everyone to become involved, to keep their eyes open, and to report anything unusual to the authorities.  She warned us that everyone is qualified to help, everyone can notify authorities, and cautioned us not to think that "someone else" will report it, or that "someone else" will help.    We where honored and thankful to be invited to participate and lend our support.  The more we all work together the stronger we are and more people we can help.