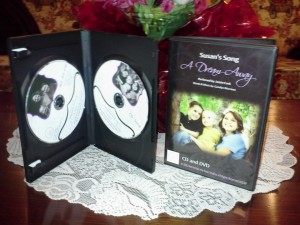 Michael MeLean's benefit concert performance of "The Forgotten Carols" will be Tuesday Night, December 18th at Cottonwood High School, in Salt Lake City, Utah.   Although there will be performances all week, this performance is dedicated to Susan.  Susan had tickets to see "The Forgotten Carols" but never got to use them.   Chuck and Judy Cox, along with Jessie Funk and Camilyn Morrison who created Susan's Song "A Dream Away" will also be there.
We will have copies of the commemorative CD/DVD set of Susan's Song, "A Dream Away" available at the concert, and we will be asking a minimum $10.00 donation for the set larger donations are always welcome.   Donations will go toward building a monument to remember Susan, Charlie and Braden.  It is a large project and we are testing the waters somewhat with this commemorative set and benefit concert to see if there is enough support to actually move on to the next step, of choosing an artist.
Our vision for the monument at this time is Susan with her arms outstretched and Charlie and Braden running toward her, symbolizing the love of family.  We see the Statue as life-sized so that it is interactive in that children can touch Susan, Charlie or Braden, run beside them, hold their hand.  We hope it will evoke the feeling of love and joy to the casual observer, while those familiar with the story will also be reminded of the tragic consequences of Domestic Violence.
We hope to see everyone there.