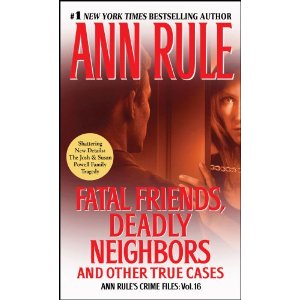 Ann Rules new book  "Fatal Friends, Deadly Neighbors" has been released, and is available in paperback.  Hard copies are available only through book clubs.  It is currently #3 on the Best Sellers list.  Susan's story is the first third of the book.  I think Ann does a very good job of telling the story.  We found only one major error, for some reason the date of Charlie and Braden's death is off by one day, the book says February 6, it should be February 5th, the date will be corrected on the next printing run.
I like Ann's statement on the dedication page
"For Susan, Charlie, Braden, Max, Becky, Opal, Burie, Marci, Nadine, Sonia, Dina, Sue Ann, Kit, Rose, Jeffery and Wendy.  In the hope of losing you and your innocence will touch us to save others"
Well said Ann that is exactly why this book and these stories need to be told.
We assisted Ann with book signing at two locations, Ann is a very fun, nice woman, who uses her gift of writing to tell these stories, we share her hope that by telling our story it may save others.