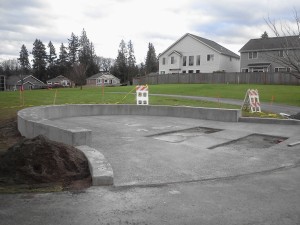 Work continues on the Angel Statue at Woodbine Cemetery in Puyallup, Washington, which will honor all of the Children that have left this life early to return home.   It looks like this Angel Statue (the 101st if I counted correctly) will be completed in time to be unveiled and dedicated for this year's December 6, Annual Vigil.
As with all annual Christmas Box Angel vigils, this one will start at 7pm.
Richard Paul Evans, who commissioned this Angel Statue in response to his book and movie  "The Christmas Box", will be on site for the dedication.
If you can't make it to this vigil, we invite you to attend a vigil at one of the other existing angels.  You can join us by following this link to find the nearest Christmas Box Angel statue near you and remembering your loved one.   http://www.richardpaulevans.com/angel-statues/locations