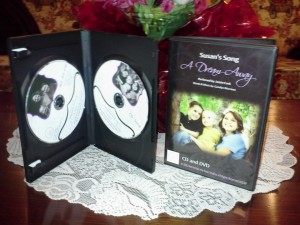 We are pleased to now have this complete CD/DVD "Commemorative Set" available.  The set includes Susan's Song ,"A Dream Away" performed by Jessie Funk and written by Camilyn Morrison on CD, and a DVD with the slide show video set to the same peaceful, inspiring song "A Dream Away" .  (Here is a link to the video on YouTube http://www.youtube.com/watch?v=GdDoB49-lJM)  (The Song is also available on i-tunes)
To get your copy or copies, you can make contact with us by mail, (see the contact us tab) or simply click on the memorial Donations button on this site, and make a donation.  A minimum donation of $12.00 per set is asked.  The Donations will go to creating a memorial to remember  Susan, Charlie and Braden, and to remind people of the importance of family relationships, and to always do everything we can to prevent domestic violence.   Any excess funds will be used to help victims, survivors, and  families struggling with the effects of Domestic Violence and Violent Crime.
The commemorative Set will also be available at Michael McLean's "Forgotten Carols" performance on December 18th at the Cottonwood Highschool venue, which is being dedicated to Susan, Charlie and Braden.  Chuck & Judy Cox, will be in attendance and available to autograph your set, as will Camilyn and Jessie.