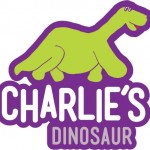 A picture of a dinosaur drawn by Charlie Powell, age 3, possibly with the assistance of his mother Susan who is still missing, was discovered by two deputies.
The two Pierce County deputies were the same ones that officially informed Chuck and Judy Cox that Charlie and Braden had died in the fire set by Josh Powell, they had an idea.   They wanted to use the picture as a logo (this is the logo) for a non-profit foundation to help foster children who they come into contact with through their work.
The plan was to provide backpacks to transport foster children's personal possessions when they have to be moved from one foster home to another, and to provide them with their own brand new, not hand-me down, personal items to keep.   (On behalf of Charlie and Braden the backpacks will have this logo)
They asked for Chuck and Judy's permission, which was granted, and they began the Charlie's Dinosaur project.
Crime Stoppers of Tacoma/Pierce County has helped with fund-raising, organization and initial set up of the project.   Wal-Mart made a substantial donation to the Charlie and Braden Project as did the Puyallup Indian Tribe and other businesses.
Law enforcement officers transporting foster children or children that have to be removed from a dangerous situations can now use a gift card to purchase needed personal items for the child, a coat, shoes, toothbrush, etc.   Talk about getting rid of red tape!!!  Oh and all those stuffed animals (hundreds) left as memorials for Charlie and Braden have been professionally cleaned and packaged to be given to children.  What a wonderful project.
Charlie's Dinosaur is working in cooperation with the state foster care system and children's hospitals, to ensure that those in need quickly get the help they need.   There will be a Charlie's Dinosaur website, but it is under development.  We will try to keep you informed of their progress.
This is yet another legacy of love, that has risen out of Charlie and Braden's tragic death.