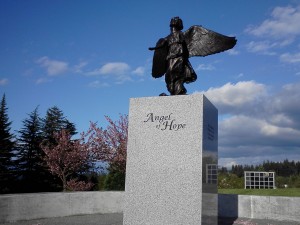 On December 6, 2013, at the Woodbine Cemetery in Puyallup, Washington the annual Christmas Box Angel memorial to remember those whose little Angels that we have lost will be held.   All those who would like to join us are invited, to come a short candle light ceremony will be held starting at 7pm.
It is customary to bring a candle for the vigil, and a white flower in memory of you loved one to leave at the statue.
Judy and I will be using this event to remember Charlie, and Braden who passed away on February 5, 2012 and our daughter Susan who is still missing.  We invite others to do the same at Christmas Box Angel sites in Salt Lake City and across the country.  We Thank those who are preparing the vigil.